White Trash Art by Kim Alsbrook
6
Dec
2010
Blending trash with fine art painting yields unexpected results in White Trash Art series by Kim Alsbrook.  The process by which Kim came up with this series is fascinating and combine this with the medium she uses, it elevates her paintings to an even higher level of creativity.
The White Trash Series was developed while living in the South out of frustration with some of the prevailing ideologies, in particular, class distinction. This ideology seemed based on a combination of myth, biased history an bizarre sentimentality obout old wars and social structures. With the juxtaposition of the portraits from museums, once painted on ivory, now on flattened trash of beer cans and fast food, the artist sets to even the playing field, challenging the perception of the social elite in today's society.
When we asks how long she had she been painting she replied:
"I painted when I was young and stopped for like, 20 years until I decided I needed to do these. In between I focused on print processes. When I painted these everyone said, "I didn't know you knew how to paint!" but I had gotten in a little practice because I worked as a handtinter for a 3rd generation portrait photographer in Charleston, SC for a few years (I was the last one, they don't do it anymore cause of digital). The first white trash portraits were painted with the Marshall photo oils I used for the tinting job."
Here In this Scrapple TV Video Kim explains in more detail why she did this series.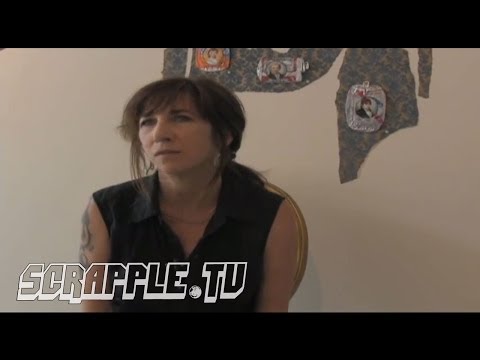 She explains "I was being ironic, countercultural, rebellious, pissed. Originally I was going to sell them out of a trash can for $5 at the next Art Walk as a statement against the gallery culture there. It was alot of things."
Kim had an opening last weekend in Berlin with a German artist, Tilo Uischer and a Canadian artist, Elisabeth Belliveau at Two Window Project, a new gallery by Gregory Teodori. The show is called "About Face", where each artist including Kim, did different types of work with portraits. The show will run until January 22, 2011.
Kim also shows regularly in Philadelphia with Bambi Gallery and Snyderman Works.
Visit Kim Alsbrook's website to see her other works.