Movie Review: The Mist, One of The Best Stephen King Book-to-Film Adaptations
18
Aug
2010
Stephen King's stories, make for great films, such as Carrie, Shawshank Redemption, The Shining, and Stand By Me. One such tale that I believe should have gotten more fanfare upon it's release in 2007 is The Mist. It is truly a gem of a horror film, which ranks amongst one Stephen King's best book-to-film adaptations.
Artist David Drayton (Thomas Jane) and his family hide in the basement as a bad storm blows through the area, damaging their home, killing the electricity and driving a tree through their living room. David takes his son Billy and a neighbor, Mr. Norton, who's car was destroyed by a tree, and head into town the next morning to obtain provisions for repairs and food before supplies are no longer available. You find out the neighbor and David have a slightly sour history due to a disagreement about a tree that leans over David's property.
This tiff is temporarily pushed aside for the time being due to the storm and the want to help thy neighbor. On the way into town, they see a flurry of military vehicles pass them on the road in a swift hurry. Little do they know the terror that awaits them after The Mist rolls in and they are trapped in the supermarket.

Upon my first viewing of this film I did not know what to expect. Honestly, I did not think it would be as good as it was.  All I knew about The Mist was the premise of people trapped in a supermarket, hiding from a deadly entity.  How many times has that been done, in how many different locations? Too many to count.
Directed by Frank Darabont (who also directed The Majestic, The Green Mile and The Shawshank Redemption to name a few), this film was packed with suspense and was quite thought provoking and downright scary on so many levels. However, it did not use blood and gore as a tactic in the scare factor.  Instead it used the fear of the unknown and the human condition mixed with the psychology of an angry mob.
Throughout the first half of the movie, layers of information seamlessly fill the minds of the audience. You become vested in the characters, just as each are with each other. This is key to what plays out inside that store and how we feel about it emotionally when we are undoubtedly wrought with conflict at what transpires. How quickly the once kind and helpful fellow members of the community turn into primordial creatures who's only goal is protecting oneself. The levels of education, gender roles and religious beliefs  plays a big part on both ends of the spectrum, between the group of people in denial at the reality of their threat and the group of people who follow logic and realize the dangers and act most civilized. In the real world this is true to form.
Marcia Gay Harden, who plays Mrs. Carmody, plays such a strong character in this film.  A religious sort of nut, who riles everyone up with talk of end of days and death and eventually spurs the people of the community trapped inside the supermarket to turn into an ochlocracy, taking drastic measures for survival. It is chilling how one individuals' fervor can lead a mob to do things they normally wouldn't do. We all know this happens in reality all the time.  This is what makes watching it play out so terrifying.
The climax has to be one the most OMG moments in film history. Maybe I'm exaggerating, but I cannot remember if or even when I was more taken aback at a movies final fifteen minutes.  Okay, maybe I can say the first Saw movie was a moment relatively close…just maybe, but for different reasons. The epic finale in it's brilliance is due in part to the fact it's not anti-climactic. It gives such a punch, its hard to swallow and we the audience are allowed to feel that.  The aftershock will stay with you for hours or maybe even days after the movie has ended.
GO RENT IT NOW!!
Rating: 10/10 stars
Running time: 125 minutes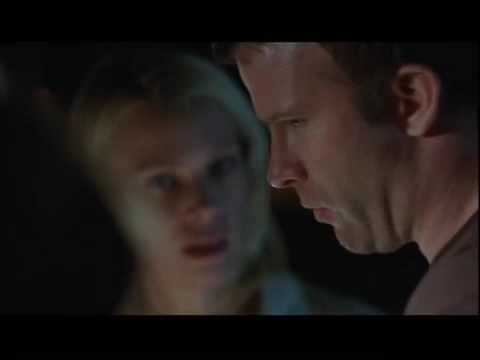 Review originally written for Open Book Society.