ROY LICHTENSTEIN EXHIBITION AT MUSEUM LUDWIG
Roy Lichtenstein's exhibition Kunst als Motiv at Museum Ludwig, one can discover a completely different side to his art. In around 100 exhibits, predominantly large-sized paintings as well as accompanying drawings and sculptures, you can follow how he explored various styles from art history, ranging from Expressionism and Futurism to the Bauhaus, Art Déco and even east Asian landscape painting.
Works and the stylistic hall-marks of such artist heroes as Monet, Matisse, Mondrian and Dalí appear as themes and set elements, which Lichtenstein rephrases in his own imagery with a mixture of irony and mastery. Even Picasso gets cast in a totally new light, becoming a pseudo-comic that reflects the clichéd image of the artist. The impressive paintings from the series "Brushstrokes" show precisely that – brushstrokes, but massively enlarged and stylised.
Museum Ludwig has the largest collection of American Pop Art outside of the USA, with many works by Lichtenstein. The exhibition runs through October 3, 2010.
CASEY GRAY EXHIBIT 'ILL ROMANTIC' AT WHITE WALLS
Stencil artist Casey Gray's artwork explores the dynamics of sexual attraction and sexual perversion in society. Touching on themes such as promiscuity, the power of beauty, the emotional dangers of sexuality and the various complexities of youth; his work reflects an utter fascination with the perverse nature of mankind.
Ill Romantic features pieces which draw upon the duality of attraction and repulsion as it exists in relation to the human heart. Casey Gray composes his mixed media pieces through a meticulous process of stenciling, layering, and various urban media techniques, a process which in many ways reflects the conceptual nature of his work's focus on true romanticism versus an idea of a commodified, culturally constructed, escapist romanticism. His bright and colorful paintings are both graphically and conceptually compelling, as well as personally resonant for both the artist and viewer.
Here is a time lapse video of Casey Gray at work.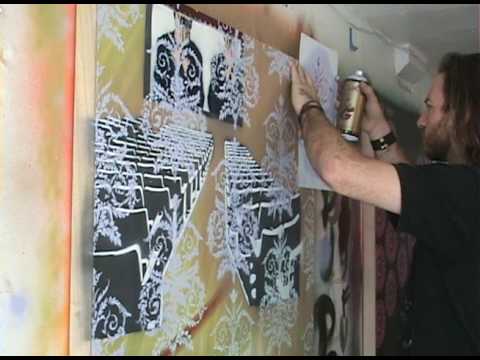 The exhibition started July 10 at White Walls and runs through August 7, 2010.