Art News: Giant Inflatable Sculptures at Miami Beach Botanical Gardens & Hungarian Descendants File Suit Over Nazi-Looted Art
28
Jul
2010
Starting this Sunday, if you glance through the foliage of the Miami Beach Botanical Garden, you just might see the toes of a gigantic, upside-down appendage stretching three or four stories high into the palm fronds of the park's many trees.  If you go inside, you'll find two dozen 30- to 45-foot-tall inflatable sculptures that make up 'Giants in the City', a free, whimsical art exhibit that runs till August 6, 2010.
The person behind this exhibit is  Miami artist Alejandro Mendoza behind the traveling project. His personal mission began as a personal mission to turn convert his art into large sculptures.
He said he turned to inflatable product partly to save money, and soon the idea became a communal, art in public places venture in which he encouraged others to turn their art into massive, air-filled productions that can be deflated and transported easily.  Noor Blazekovic, a participating artist and publisher of Irreversible magazine, the sponsor of the show, said the sculptures are inflated using the same type of gadget that blows up bounce houses
This is the second South Florida showing of Giants in the City. The exhibit took place on a smaller scale in Bayfront Park during Art Basel 2008.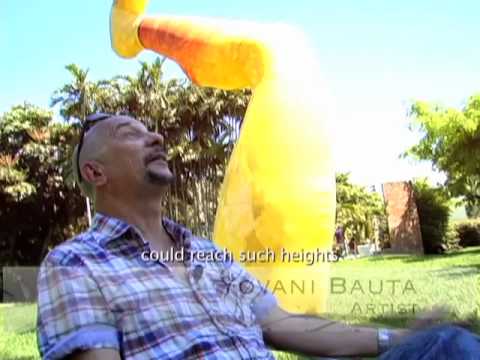 HUNGARIAN BANKER DESCENDANTS FILE SUIT OVER NAZI-LOOTED ARTWORKS
In what could be the single largest Nazi restitution claim in history, descendants of Hungarian banker Baron Mor Lipot Herzog have filed suit against Hungary in U.S. court, alleging that the nation is holding more than 40 works of art that were stolen from Herzog during World War II.
Francisco de Zurbaran
The new lawsuit comes a week after another notorious restitution case involving Egon Schiele's "Portrait of Wally" was settled in a U.S. court, allowing the Nazi-looted work to remain in the hands of Austria's Leopold Foundation upon the payment of $19 million to the heirs of the work's original owner.
The Herzog family has created a Web site with information about the case, including a photo gallery with images of 29 works of art, at the Web address www.hungarylootedart.com.
Read whole article: artinfo